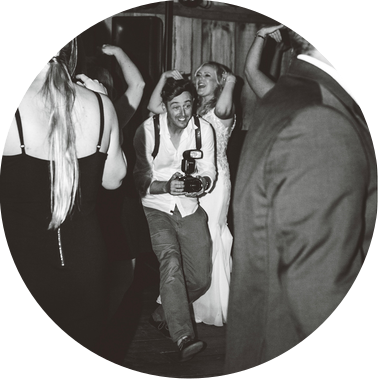 Hi. I'm Patrick Betcher, a Milwaukee wedding photographer & videographer, and I love working with laid-back couples who like to have a good time.
When you hire me, you aren't just buying pictures. You're investing in someone with the training, experience, and instincts that allow you to trust fully in my ability and commitment to my craft, freeing you up to have a damn good time with the people you care about. I'm also your ally in navigating something that may be brand new to you.
My approach is largely documentary in nature, with a focus on emotions and details that strongly convey the people and spirit of a specific place and time. We also sneak away for some fun, low-pressure and creative portraits, leaving you with one hell of a photographic heirloom to pass down the line. The time capsule is even more robust if you opt for a wedding film. Either way, the end result is top shelf.
You will see a lot of portraits throughout this website. Obviously, there are many more types of images that come from a wedding; if you'd like to see a full gallery I'd be happy to share upon inquiry.
I feel lucky that you stumbled into my little corner of the world, and would love the opportunity to connect if you feel like we might be a good fit. I'm happy to meet over the phone or over some coffee.
Serving couples from Milwaukee, Chicago, Madison and beyond, I'm here to focus on your wedding experience and the beauty of photography and moving pictures as an art form.
If you'd like to connect directly, you can reach me at the connect tab above...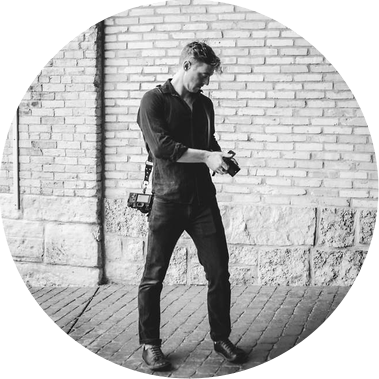 "HE MADE THE PROCESS STRAIGHTFORWARD, EASY, AND FUN"
Patrick was absolutely incredible to work with for our celebration of love! He made the process straightforward, easy, and fun. On the day of, he was very communicative, go-with-the-flow, and calm. He kept us to our original plan and was always present but not at all intrusive. I had multiple people during and after the event ask me who the photographer was, as we all thought his energy and vibe was just totally right for our day.

Lastly, the photos he took were INCREDIBLE. Truly. Absolutely beautiful portraits, but also super fun in-the-moment photos. Like I really could not recommend Patrick enough...you're making a really good call choosing him for your event!
-KATE + MICHAEL
"IT IS OBVIOUS THAT HE LOVES HIS WORK"
It was important to us to have excellent communication and the details of the wedding day planned out well in advance; Patrick came through with both. We initially met virtually and then used the engagement session to meet in person. During our engagement session, Patrick went into the lake himself to try to get the best pictures for us! It is obvious that he loves his work and loves doing his best with every customer. On our wedding day, Patrick melted into the background. He had a play-by-play game plan figured out ahead of time so when the big day came, it all played out like he had told us. We got our wedding photos back about a week ago, and they are wonderful. When we look at our photos, they take us back to the day and bring us total happiness. This is exactly what we wanted from our wedding photographer. Patrick was 100% professional and reliable and gave non-pressuring advice for how to best approach our wedding day. We would hire him again without a doubt.
-NICOLE + ARIC
"EASYGOING PERSONALITY THAT HELPS YOU FEEL RELAXED"
Patrick is an amazing photographer who just did our wedding and engagement photos! While we were not initially planning on doing an engagement shoot, Patrick said its a good option if we were not the type of couple who typically takes a lot of photos of ourselves, which we are not. This was absolutely the right call! Patrick has a very easy going personality that helps you feel relaxed during the big day. He is a pro and was essential to keeping us on track during the hectic time of a wedding. Would absolutely recommend to anyone!
-JUSTINE + DREW
"HE WAS A TRUE DELIGHT TO WORK WITH"
Getting a photographer for our 1st anniversary party/wedding reception was a last minute decision. At first we thought we'd just collect the photos people took and call it a day. But at the last minute we decided to invest in a pro to capture the night. We could not have been happier that Patrick was available on such short notice. He was a true delight to work with–communicative, professional, and fun. We were so impressed with his ability to get creative with the shots and get amazing lighting in a low-lit environment. He was magically there any moment we wanted a picture taken, but at the same time he was not invasive. He's very stealth. Which is exactly what you want from a photographer at these type of events. Truly can't recommend Patrick enough. The value of his work is 10/10.
-EILEEN + ALEX